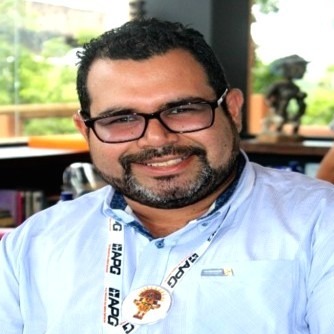 Daniel Carbone
Tourism & Air Transportation Professional
Panamá, Panamá
Servicios ofrecidos $30

/ hora
Turismo / Viajes / Hostelería (1)
Guías turísticos

Sobre Daniel Carbone:
I have several years of experience as commercial director, sales manager, operations coordinator & office manager for some of the best leisure tourism agencies, transportation companies & Passenger Airlines in Panama and overseas. 
In addition to my extensive office and field experience, I have strong communication, customer service and administrative skills such as advanced English (native like) and native Spanish. My broad background makes me an excellent candidate for this position.
Experiencia
Experience
Commercial Director / APG Network – Central America & East Caribbean 
March 2019 – July 2023(Current)
As Commercial Director for APG Network Central America & East Caribbean office I have performed in all aspects of airlines commercial promotion and operations. APG Central America & East Caribbean office is the Acting partner for Airline Clients such as Emirates Airlines, Royal Air Maroc in additions to an airline interline program with over 134 airlines from around the world and the transition to the new IATA distribution program NDC. From APG Network Central America & East Caribbean I have administrated the commercialization of all our Airlines partners to travel agencies in 40 territories of the region.
Freelance Agent / General Tour Guide (Panama Tourism Authority Certified)
May 2018 – January 2021(Current)
As a freelance Tour Guide I've had the opportunity of showing the beauties, history, culture, actuality and the very best of Panama to visitors and tourists from all over the world. Always looking to provide an excellent service by making sure that each client enjoys the most of their time in our country and leaves back home with great memories and to pass the word about Panama to their friends and family. I have worked with several local tour operators and international travel agencies as a private tour guide for their groups and FITs clients. My duties as a Freelance tour guide go beyond guiding and providing information, I have and do organizing itineraries, logistics coordination with providers like private and shared transportation operators, restaurants, hotels, boats, etc. Always prepared to resolve possible situations and being on call during the itineraries even during off time.
Panama Travel Corp / Sales Manager 
September 2013 – May 2018
Panama Travel Corp was a start-up project that became a successful inbound tour operator company in association with the Canadian travel expert Pierre Miller. In Panama Travel Corp we provided high quality private tourism services around Panama. As a specialized tour operator I operated tourism services by the hand of the best providers of the country making sure that our client's experiences were unforgettable great memories and pure joy moments. As a Sales Manager I personally supervised all sales processes from contacting the new clients, listening to their needs and creating unique tailor made itineraries to the operational processes of making sure that all services were well delivered and fully enjoyed. Constantly communicating and following up with our wholesalers and travel agencies clients from around the world and assisting to different travel shows and events promoting Panama as the best destinations for each and every one next trip.
Panama Trails / Sales, Groups & Operations Department
September 2009 – August 2013(3 Years, 11 Months)
Based on my experience, knowledge and contacts, I was responsible to create the best experiences for travelers interested in Panama for their vacations. From suggesting the best places, services, lodges & activities to the top VIP market clients from all around the world to supervising and monitoring the developing of each service at its best quality. With groups, I worked as supervisor and coordinator of all services such as transportation, tours, hotels, restaurants, private and commercial flights, boat excursions, vessels and cruises, always making sure that everybody in each group enjoyed all service as much and smooth as possible. As responsible for the operations' coordination I was in charge of all services follow-ups, scheduling the transportation, tours, briefings and VIP services to all our drivers and guides, reconfirmation and double check of outsourced services, collection of feedbacks and processing client's requests before and during their itineraries.
Star Contact / Costumer Service Agent
August 2008 – August 2009 (1 Year)
As a customer service agent for a T-Mobile project I was able to provide high quality customer service, help clients to find the best solutions to their problems or needs with their accounts. I developed skills as managing escalated calls, processing especial orders and requests, processing suggestions and comments & clients requests follow-ups.
Grupo Selecta Panamá / Marketing Department (Catalogs & Show Books)
August 2006 – August 2008 (2 Years)
I was in charge of the design, creation, distribution and exhibition of all products new collections catalogs and Samples. Also I was responsible of setting the presentations of the new collections at the shows events around the year and for all our clients in Panama.
Educación
Academic Background
Universidad Latino Americana de Ciencias & Tecnología
Diplomado Gestión de Turismo Sostenible y Promoción de la Conservación.
Año 2012
Universidad Latino Americana de Ciencias & Tecnología
Degree in Tourism Business Administration, Travel Agency & Tour Operator
2007 - 2011
Instituto Panamericano
Prom 2006
Profesionales que compiten con Daniel
Profesionales que ofrecen servicios similares a los de Daniel Carbone
Profesionales del mismo sector Turismo / Viajes / Hostelería que Daniel Carbone
Profesionales que ofrecen servicios de Guías turísticos
Profesionales que ofrecen servicios de Guías turísticos
Profesionales de diferentes sectores cerca de Panamá, Panamá
Otros usuarios que se llaman Daniel
Trabajos cerca de Panamá, Panamá
---

Programa de las Naciones Unidas para el Desarrollo (PNUD) - Panamá

Panama, Panamá

Consultor Individual · UNDP-PAN-00229 CONSULTORIA SOBRE CRIANZA POSITIVA PARA MAESTROS (AS) Y PADRES FAMILIAS 202- MIDES · El Programa de las Naciones Unidas para el Desarrollo (PNUD) está ejecutando ...

---

Center For Global Health

Panama, Panamá

Serve as an Operations Research Analyst responsible for planning, organizing, and carrying to completion, various operations research studies involving the substances of supply chain and commodity pro ...

---

FUNCTIONS El CFO participa activamente en la definición de la estrategia financiera del Grupo y es responsable de la planificación, ejecución y control de los aspectos financieros del Grupo. · Reporta ...